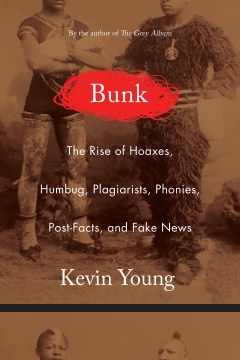 Bunk
The Rise of Hoaxes, Humbug, Plagiarists, Phonies, Post-facts, and Fake News
Book - 2017
The journalistic hoaxer, like the travel liar of the eighteenth century, finds "abroad" what he or she already thinks.
===
The reporter, Jayson Blair, 27, misled readers and Times colleagues with dispatches that purported to be from Maryland, Texas and other states, when often he was far away, in New York. He fabricated comments. He concocted scenes. He lifted material from other newspapers and wire services. He selected details from photographs to create the impression he had been somewhere or seen someone, when he had not.
And he used these techniques to write falsely about emotionally charged moments in recent history, from the deadly sniper attacks in suburban Washington to the anguish of families grieving for loved ones killed in Iraq…. In the final months the audacity of the deceptions grew by the week, suggesting the work of a troubled young man veering toward professional self-destruction.